OUR GROUP
Burnt Ends Hospitality Group is a company that has restaurants in Singapore and internationally, under founding chef and owner Dave Pynt.
All our restaurants focus on wood fire cooking, offering a relaxed atmosphere where guests can dine with friends or family to enjoy thoughtfully prepared, tasty food made with the best available produce.
Our first restaurant is the acclaimed one-star Michelin restaurant Burnt Ends. A modern wood fire restaurant in Singapore's Dempsey neighborhood, serving modern barbecue and drink list comprised of boutique wines and artisanal spirits in a fun, relaxed atmosphere.
At the heart of this restaurant is an open-concept kitchen with counter dining surrounding a custom four-tonne dual cavity oven and four elevation grills. Burnt Ends writes their menus daily and believes that there is magic that comes from cooking with wood. Adjacent to Burnt Ends restaurant in the historic barracks are Burnt Ends Bakery Bakery, Bar & Lounge.
Our leisure brand, The Ledge by Dave Pynt, brings Burnt Ends' much-loved style of modern barbecue to the Waldorf Astoria Maldives Ithaafushi in partnership with Hilton Hotels & Resorts. We currently own and operate two Meatsmith restaurants across Singapore and Meatsmith Steakhouse in Jakarta, Indonesia.
Next on our international restaurant brand development, we have our upscale experience, Meatsmith Steakhouse, where we fire up our elevated wood fire grills, smokers, and quality in-house aged meats.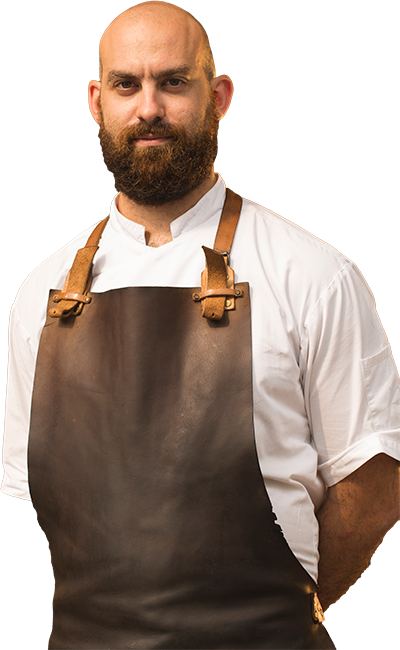 DAVE PYNT – CHEF & FOUNDER
Chef-Owner of Burnt Ends Hospitality Group that manages Burnt Ends, a One-Michelin starred modern barbecue restaurant and Meatsmith, the wood-fired barbecue restaurants.
Born in Perth, Western Australia, Pynt studied commercial cooking at the TAFE West Coast Institute of Training before traveling overseas to cook alongside and learn from some of the world's best cooks.
His career includes time with culinary heavyweights such as Rene Redzepi at Noma, Victor Arguinzoniz at Asador Etxebarri, Nuno Mendes at Viajante and The Loft Project, Tetsuya Wakuda at Tetsuya's, Sydney and Fergus Henderson at St John and St John Bread and Wine, London.
Since 2013, Burnt Ends restaurant has established itself as an integral part of Singapore's new food order and the country's historic Chinatown neighborhood. In December 2021 Burnt Ends relocated to Dempsey in the historic barracks expanding with the launch of Burnt Ends Restaurant, Cellars, Bakery, Bar & Lounge.
Collaboration remains one of Pynt's key tenets and he has been involved in major food events and festivals around the world including Gastronomika in San Sebastian, Melbourne Food and Wine Festival, Taste of Hong Kong, Tasting Australia in Adelaide, Meatopia in London, Postrivoro in Italy, Wonderfruit Music Festival (Chon Buri, Thailand) and E5 Bakery Music and Food Festival in London.
Burnt Ends has held its One-Michelin star since first awarded in 2018. The restaurant is currently ranked #94 on the 2022 San Pellegrino World's 50 Best Restaurants List and #24 on the 2023 San Pellegrino Asia's 50 Best Restaurants List.
Pynt was the winner of the Asia's 50 Best Restaurants Chef's Choice Award 2017, Top 100 Best Chefs Award 2021, a peer-voted accoladed voted by industry influential and chefs.
Leadership Team
We are a team of passionate individuals who strives to make things happen, with a burning desire to constantly create memorable moments and amazing experiences for all.